Everything about our photoshoot with murtaza was magical. We were on a time crunch and with Covid messing up our original plans, I didn't even expect to have photos done. My fiancé ran into murtaza on ig and he decided he wanted to make this shoot happen for us ♥️ He is very professional, paints a picture for you so you get the most organic picture possible, and makes you feel extremely comfortable. I have never enjoyed a photo session as much as this one. I am so in love with the photos and can't believe we got so lucky to find him and for him to take care of us the way he did. Do not hesitate!!! Book now!!! You won't regret it!
Ashley Farmer
Engagement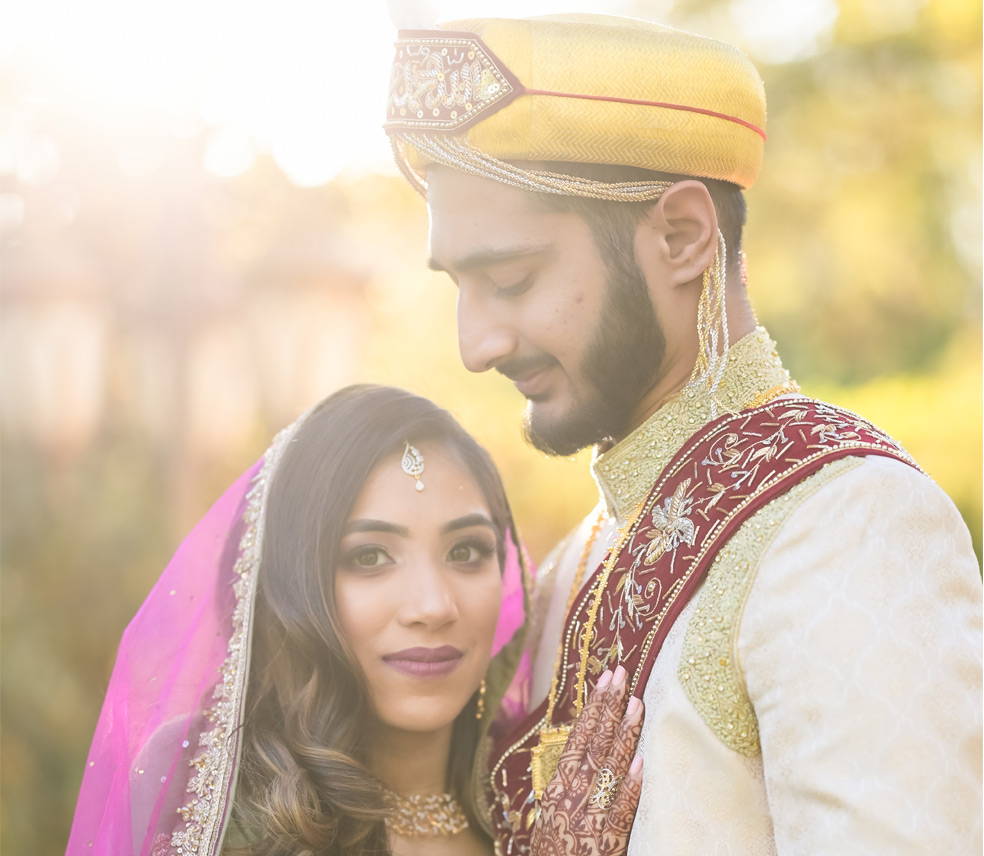 We hired MKEshoots to photograph our wedding. We could not be happier with our decision. Murtaza is an amazing photographer and very easy to work with. He started collaborating with us well before our big day, working on a vision together. With the pandemic, he was flexible to changes to our wedding day and schedule the day of. He gave helpful instructions and helped us be comfortable and natural. We got our pictures in 3 weeks as promised and love the video and gallery he put together for us. You cannot go wrong hiring MKEshoots for your occasion!
Ali Baliwala
Wedding
Murtaza's approach to wedding photography was right up my alley! He unobtrusively documented our day as it happened, capturing the real moments: big and small, genuine and heartfelt, in an artful way. These moments formed the beautiful and personal story of our wedding day. That said, the more formal group photos (family photos and wedding party), as well as portraits of the bride and the groom were also well taken and deemed as important. The bride and groom portraits were more natural and relaxed, not very posed. Authentic, intimate and emotional are few words to describe his work. What I love the most about my finished album is that Murtaza captured the real moments from the wedding day so that my family and I can look back at our photos years later and be transported back in time.
Burhanuddin Johar
Wedding
Murtaza is a super talented photographer and a very kind person. He did an amazing job with our engagement photoshoot; the photos will look beautiful in our wedding invitations. We especially loved how comfortable he made us feel, because we don't get photos taken very often. He made it feel more like a date for us instead of a photoshoot. It was very nice.
Alyssa Kimbell
Engagement
Murtaza, from MKEshoots, was incredibly supportive through the process. Detailed, personable, and professional. I came across him and his services through Instagram and entered a contest. After entering, he immediately reached out to get to know my fiancé and I. We unfortunately did not win but decided to move forward in booking our engagement photos with him. It was a wonderful experience and we love all of our photos. He helped my fiancé (Jose) and I feel comfortable being in front of the camera. I am grateful for the experience and his ability to give additional encouragement to Jose and help him in feeling comfortable.
Wren Exley
Engagement
This man is one of the best photographers I have worked with. I have worked in the wedding industry for 4 years and haven't seen this much passion for his craft. When looking for a photographer for my own wedding I had high expectations and Murtaza exceeded all of them. His guidance and instructions throughout our shoot made for some of the best photos we have taken. 10 out of 10 would recommend to family and friend!!!
Matthew Bocanegra
Wedding
Where to start! My fiancé and I did our engagement photoshoot with Murtaza and just wow! We spent about 3 hours in pismo, going from Forrest to dunes to beach, and each location was even better than the last. One of my favorite things about this photoshoot is that not everything was posed. We very quickly became comfortable with Murtaza and he was able to really capture some amazing photos from mine and my fiancé's goofiness. We did a review of our photos last night and we are so beyond ecstatic! They turned out amazing, we can't even pick a favorite picture! Highly recommend scheduling a session with Murtaza!
Courtney Gotthardt
Engagement
WOW! Murtaza did an AMAZING JOB with our engagement photos. We loved every single photo that he provided. He was able to capture amazing candid shots during our photo shoot. He exceeded our expectations with his creativity and expertise. MY entire family loves the images and I will be recommending everyone to MKEshoots photography. When they say a photos is a thousand words, Murtaza will leave you speechless!
Evelyn Lopez
Engagement
WOW! Murtaza did an AMAZING JOB with our engagement photos. We loved every single photo that he provided. He was able to capture amazing candid shots during our photo shoot. He exceeded our expectations with his creativity and expertise. MY entire family loves the images and I will be recommending everyone to MKEshoots photography. When they say a photos is a thousand words, Murtaza will leave you speechless!
Jorge Ayon
Engagement
My fiancé and I loved our engagement shoot with Murtaza. He was professional and was quick to respond to all of our questions. He made us feel relaxed and was able to capture natural and genuine moments. I highly recommend MKEshoots Photography to capture your special day.
Kristen Frias
Engagement
Murtaza is an amazing photographer and an absolute pleasure to work with. He is so passionate and is committed to what he does. He does whatever it takes to get the best photos possible! We booked an engagement shoot at Anza Borrego State Park, a place neither of us had been. Murtaza spent a ton of time planning out the day to make sure we went to the best spots at the right times. He also drove over three hours to meet us! It was such a fun adventure – we all had a blast! He spent nearly 5 hours with us and took us to four different spots. He gave us some advice but also just captured us being ourselves. In addition to an amazing day, the photos themselves were incredible and ready within the week! We are so happy with they way they turned out. Highly recommend booking a shoot with Murtaza!!
Jennifer Talarico
Engagement
Murtaza was a pleasure to work with, he was very professional and created amazing pictures as well as memories! We absolutely love our photos and it was very easy and fun to work with him!!! He had a lot of great ideas and our photos came out great!
Briannad Goodridge
Engagement
Words cannot begin to describe how highly we recommend Murtaza for engagement photos. Prior to working with him, we were worried that showing the level of PDA seen in most engagement photos would be uncomfortable in front of a photographer. He made us immediately feel comfortable and my fiancé and I left the shoot saying that it was one of the most fun "dates" that we had been on in a while. It was as though he were a fly on the wall, documenting a completely natural and relaxed experience between my fiancé and I. Not only was Murtaza personable, but he was also extremely professional. We did our shoot in the most beautiful location, but Murtaza somehow had a knack for making the scenery look better in the photographs than it looked in real life. That being said, his expertise showed in each photo captured because he knew exactly the angles to make US the focus that simply complimented the surrounding scenery. Murtaza also gave the perfect amount of direction so that the photos felt natural and not posed. During the shoot, he showed us glimpses of the photos after every few poses, and I was always astounded that each one appeared perfect of the 2 of us, especially when I delete half of the photos that I take of myself on my iPhone. At the end of the shoot, he said that he was going to edit the photos, and I remember thinking, "They already look so great, how could he make them better?!?!" Seeing the final product brought tears of happiness to my eyes, and they are definitely something that I will show off for the remainder of our marriage. I love being able to look at each photo and relive those special moments with my fiancé during such a fun day. Murtaza did an excellent job capturing our love, and I am honored to forever have these photos to look on. Not only did we leave with awesome photos, I truly believe that we left with a lifelong friend. There will be no other photographer that I trust to capture our future wedding than Murtaza.
Breanne Hansen
Engagement
My husband and I have had the pleasure of having MKE shoots capture our family's precious moments over the last five years. There is a reason we keep coming back to Murtaza and his team! He is very talented and always goes the extra mile. I appreciate that he always comes early to set things up, he guides us in regards to angles and lighting, and he interacts with my kids so that he can catch those little smiles. We cherish all of the pictures he's taken for our family; and would highly recommend him and his team so they can capture your special moments as well!
Zainab Cherawala
Family
There are not enough words to describe how amazingly talented, creative he is as a photographer. From making you feel comfortable and breaking you out of your shell, to cracking jokes, with taking photos, angles lighting, being sympathetic and understanding, poses and so much more. This was the first time my fiancée and I ever took any type of professional photos and where super nervous, but by the end of the shoot Murtaza had made us totally come out of our shell. He is definitely a photographer I would recommend for any occasion to capture those precious memories we now will be able to cherish for a lifetime to come. Thank you so much we love all moments you've taken for us and will capture for us when our wedding draws more near. He is worth every penny spent!
Shaina Canales
Wedding
We found and hired MKEshoots for my sisters beach wedding. We met up before the wedding and I was blown away with Murtaza! He was so knowledgeable, so kind, and he offered to help out with anything we needed, which he ended up doing! He kept in contact leading up to the wedding, making sure we were all set and reminding us he's here to help with whatever! On the wedding day, I was running behind schedule to the beach and Murtaza got there ahead of schedule, he helped me out tremendously! I was suppose to be there for the setup of chairs and the arch but Murtaza took that weight off my shoulders and made sure it was set up to the way we discussed before hand. He covered everything on the wedding day so beautifully! He fully captured my sister and my brother in laws love, he captured the beautiful scenery of the ocean and rocky cliffs and how intimate and special this day was to everyone there. He got us the completed photos very fast and we were all amazed at how absolutely stunning all the photos turned out! My sisters wedding was so beautiful but I really believe Murtaza played a huge part in making the day run smoothly and capturing their beautiful love story. I would recommend MKEshoots to anyone! Murtaza really goes above and beyond for his clients and we couldn't appreciate it more. Thank you MKEshoots for the amazing work you did for us!
Whitney Annsley
Wedding